Posts for category: Uncategorized
By Matyas & Matyas
March 21, 2019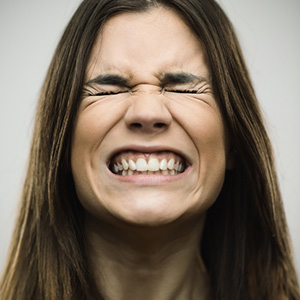 Do you grind your teeth? If you're not sure, ask your family—sometimes the sound of teeth grinding against teeth might make enough noise to be keeping them up at night. You might also be waking with sore jaw muscles and joints.
If you suspect you have this habit of involuntarily grinding, gnashing or clenching your teeth, it's a good idea to get it checked. Here are 3 things you should know about this odd habit.
Teeth-grinding more prevalent among children. Children are more likely than adults to grind their teeth in their sleep, thought to be a consequence of their developing swallowing mechanism, but usually grow out of it without any long-term effects. Adults with the habit seem to grind their teeth for different reasons, one of the most significant being a response to high stress. Tobacco could be another factor: users are twice as likely as non-users to grind their teeth. Adult teeth-grinding may also be associated with high caffeine consumption, illicit drug use or Parkinson's Disease, which impairs brain nerve function.
Sleep apnea can be an underlying cause. There's one other major underlying cause to add to that list: obstructive sleep apnea. One international study of thousands of patients from different countries found both high anxiety or stress and sleep-related breathing disorders were two of the most significant risk factors for adult teeth-grinding. It's believed the physical stress generated by these temporary episodes of breathing obstruction occurring several times a night could trigger teeth-grinding.
Teeth-grinding can cause dental problems. While having a teeth-grinding habit doesn't automatically mean you'll have dental issues, your risk can increase dramatically. Due to its chronic nature, teeth-grinding can lead to excessive tooth wear, dental work damage or jaw joint dysfunction. In some extreme cases, it could cause tooth fracture.
If you grind your teeth, your dentist may be able to help by creating a custom-made occlusal guard that can reduce biting forces while you're wearing it. You might also minimize teeth-grinding by quitting tobacco and other lifestyle changes, or getting a better handle on stress management. And if you're also diagnosed with obstructive sleep apnea, getting treatment for that condition will not only improve your overall health, it could help put an end to your teeth-grinding habit.
If you would like more information on bruxism, please contact us or schedule an appointment for a consultation. You can also learn more about this topic by reading the Dear Doctor magazine article "Teeth Grinding: Causes and Therapies for a Potentially Troubling Behavior."
By Matyas & Matyas
December 11, 2018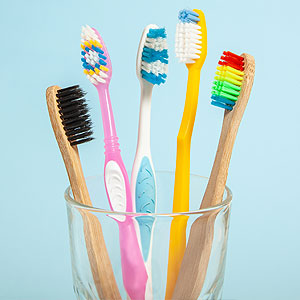 If there's one essential tool for protecting your dental health, it's the humble toothbrush. The basic manual brush with a long, slender handle and short-bristled head is still effective when used skillfully. The market, though, is full of choices, all of them touting their brand as the best.
So how do you choose? You can cut through any marketing hype with a few simple guidelines.
First, understand what you're trying to accomplish with brushing: removing dental plaque, that thin film of bacteria and food particles on tooth surfaces that's the main cause of dental disease. Brushing also stimulates gum tissue and helps reduce inflammation.
With that in mind, you'll first want to consider the texture of a toothbrush's bristles, whether they're stiff (hard) or more pliable (soft). You might think the firmer the better for removing plaque, but actually a soft-bristled brush is just as effective in this regard. Stiffer bristles could also damage the gums over the long term.
Speaking of bristles, look for those that have rounded tips. In a 2016 study, less rounded tips increased gum recession in the study's participants by 30%. You should also look for toothbrushes with different bristle heights: longer bristles at the end can be more effective cleaning back teeth.
As far as size and shape, choose a brush that seems right and comfortable for you when you hold it. For children or people with dexterity problems, a handle with a large grip area can make the toothbrush easier to hold and use.
And look for the American Dental Association (ADA) Seal of Acceptance, something you may have seen on some toothpaste brands. It means the toothbrush in question has undergone independent testing and meets the ADA's standards for effectiveness. That doesn't mean a particular brush without the seal is sub-standard—when in doubt ask your dentist on their recommendation.
Even a quality toothbrush is only as effective as your skill in using it. Your dental provider can help, giving you tips and training for getting the most out of your brush. With practice, you and your toothbrush can effectively remove disease-causing plaque and help keep your smile beautiful and healthy.
If you would like more information on what to look for in a toothbrush, please contact us or schedule an appointment for a consultation. You can also learn more about this topic by reading the Dear Doctor magazine article "Sizing up Toothbrushes."
By Matyas & Matyas
March 01, 2018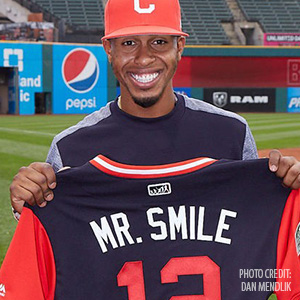 At the first-ever Players Weekend in August 2017, Major League Baseball players wore jerseys with their nicknames on the back. One player — Cleveland Indians shortstop, Francisco Lindor — picked the perfect moniker to express his cheerful, fun-loving nature: "Mr. Smile." And Lindor gave fans plenty to smile about when he belted a 2-run homer into the stands while wearing his new jersey!
Lindor has explained that he believes smiling is an important part of connecting with fans and teammates alike: "I've never been a fan of the guy that makes a great play and then acts like he's done it 10,000 times — smile, man! We've got to enjoy the game."
We think Lindor is right: Smiling is a great way to generate good will. And it feels great too… as long as you have a smile that's healthy, and that looks as good as you want it to. But what if you don't? Here are some things we can do at the dental office to help you enjoy smiling again:
Routine Professional Cleanings & Exams. This is a great place to start on the road toward a healthy, beautiful smile. Even if you are conscientious about brushing and flossing at home, you won't be able to remove all of the disease-causing dental plaque that can hide beneath the gum line, especially if it has hardened into tartar, but we can do it easily in the office. Then, after a thorough dental exam, we can identify any problems that may be affecting your ability to smile freely, such as tooth decay, gum disease, or cosmetic dental issues.
Cosmetic Dental Treatments. If your oral health is good but your smile is not as bright as you'd like it to be, we can discuss a number of cosmetic dental treatments that can help. These range from conservative procedures such as professional teeth whitening and bonding to more dramatic procedures like porcelain veneers or crowns.
Tooth Replacement. Many people hide their smiles because they are embarrassed by a gap from a missing tooth. That's a shame, because there are several excellent tooth-replacement options in a variety of price ranges. These include partial and full dentures, bridgework, and dental implants. So don't let a missing tooth stop you from being Mr. (or Ms.) Smile!
If you'd like more information about oral health or cosmetic dentistry, please contact us or schedule an appointment for a consultation. You can also learn more by reading the Dear Doctor magazine articles "Beautiful Smiles by Design" and "The Impact of a Smile Makeover."
Office Hours

| | |
| --- | --- |
| Monday: | 8:00 AM - 7:00 PM |
| Tuesday: | 8:00 AM - 7:00 PM |
| Wednesday: | 8:00 AM - 5:00 PM |
| Thursday: | 8:00 AM - 5:00 PM |
| Friday: | 8:00 AM - 2:00 PM |
| Saturday: | Closed |
| Sunday: | Closed |